₦35,000.00
Water mattress creates an undulating, soothing, surface for great sleep. Several properties of what makes this mattress the ideal choice for your bed:
Water is incompressible therefore body weight spreads evenly on a water mattress
Minimal to no sweating due to high thermal capacity of water which further improves comfort.
Water mattress is very easy to clean and and the water replaced.
This water mattress unit is has dimensions of 190cm by 110cm and is exactly the size of a standard 8 springs bed. An outer support is used to hold the 3 water baffles in place after filling them up.
It is made of very strong PVC and is guaranteed to last so long as it is kept from being punctured by sharp objects
Fill up to the level at which the user is comfortable.
This mattress can
Compare
A waterbed, water mattress, or flotation mattress is a bed or mattress filled with water. Waterbeds intended for medical therapies appear in various reports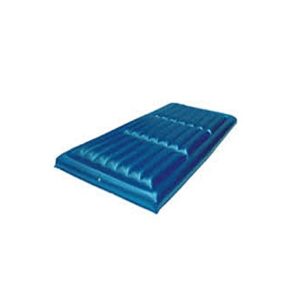 When a person is bedridden for an extended period, a waterbed or air mattress is often used to prevent bedsores. This bed shapes itself to the contours of the patient's body and distributes support evenly to prevent pressure points and/or skin irritations from developing.